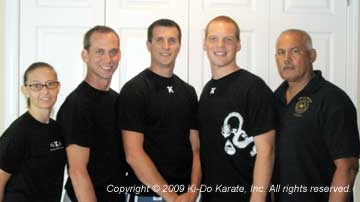 Ki-Do Karate Instructors Certified



August 12-15th, three Ki-Do Karate instructors traveled to The Lake Of The Ozarks, for several days of intense instructor training for certification to the next level of instructorship. "I am very proud of these three for getting promoted to the next level," said Master Instructor David Daiber. Ki-Do Karate Instructors who were promoted and certified are Zach Rakers to Head Instructor, Jeremy Kloss to Senior Instructor, and Heather Hendershott to Senior Instructor. "The certification covers how to help students develop great karate techniques, but even more importantly, to teach the Black Belt Life Skills of respect, self-control, and self-confidence," said David Daiber.
The instructors attended sessions on how to build students' self-esteem, how to set goals and motivate students to reach those goals, how to establish self-discipline and respect through positive reinforcement, and how to structure class to be both fun and exciting while helping students reach their fullest potential. "We take great pride in that not only are our instructors certified in their personal belt ranks as students, but that they are certified as instructors too," said David Daiber.
In addition, to the Black Belt Life Skills training, instructors studied advanced Ryukyu Kenpo Kyusho Jitsu and Tuite Jitsu. Both arts utilize the knowledge of acupressure points, the same used in oriental healing, for self-defense. "These sessions included detailed information about how to use the acupressure meridians to subdue an attacker," said Zach Rakers.
The instructors also received a special training session with Guro Chuck Cadell in the art of Cabales Serrada Eskrima. Guro Cadell is one of only 16 people to ever get promoted to level of Master by the late Grandmaster Angel Cabales. Serrada Eskrima is a highly effective weapon defense system specializing in close-quarter combat. Serrada Eskrima translates into English as "to close in a skirmish". David Daiber has been studying the art of Cabales Serrada Eskrima for over 18 years and is a certified instructor under Guro Cadell. "Serrada Eskrima is the most effective martial art that I have ever studied," stated David Daiber. "It's not that the techniques are that much different then the other arts, it's the training method that sets Serrada apart. Once a technique is learned in Serrada it is then developed through reaction based free flow drills rather than set patterns like many other arts." Cabales Serrada Eskrima is taught in Highland at Ki-Do Karate.
The goal of the Ki-Do Karate instructors is to help all students reach the level of Black Belt physically, as well as mentally, building a better community one Black Belt at a time. "A true Black Belt is confident but never arrogant, strong but never violent, a leader but also a servant," said David Daiber. Ki-Do Karate offers specialized programs for ages 4 through adult. For information on specials call Ki-Do Karate at 654-KICK (5425).

Photo - from Left to Right: Heather Hendershott, David Daiber, Jeremy Kloss, Zach Rakers, and Chuck Cadell.